Corona Borealis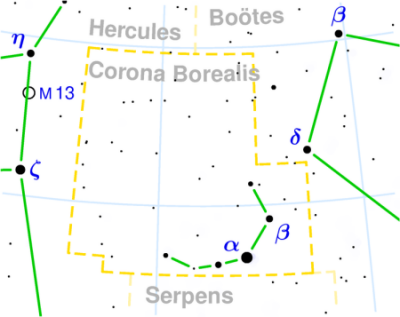 Corona Borealis. © 2003 Torsten Bronger.
Corona Borealis (abbreviation: CrB), the Northern Crown, given by Bacchus to Ariadne, daughter of King Minos of Crete, is a small but prominent northern constellation. It lies east of Arcturus between Boötes and Hercules, and comprises a distinctive arc formed by the stars Theta, Beta, Alpha, Gamma, Delta, Epsilon, and Iota). Also within its boundaries are the prototype R Coronae Borealis star and T CrB, popularly known as the Blaze Star. See below for details of the constellation's brightest stars.
Hercules and Corona Borealis, as depicted in Urania's Mirror (c. 1825).
---
| | | | | | | |
| --- | --- | --- | --- | --- | --- | --- |
| star | vis mag | abs mag | spec type | distance (ly) | RA (h m s) | Dec (° ' ") |
| Alpha (Alphekka) | 2.22 | 0.42 | A0V | 75 | 15 34 41 | +26 42 53 |
| Beta (Nusakan) | 3.66 | 0.94 | F0Vp | 114 | 15 27 50 | +29 06 21 |
| Gamma | 3.81 | 0.57 | B9IV+A3V | 145 | 15 42 45 | +26 17 44 |