Apus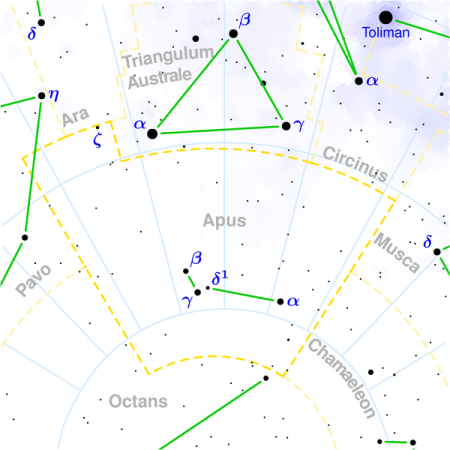 Apus. © 2003 Torsten Bronger.
Apus (abbreviation: Aps), the Bird of Paradise, originally called Avis Indica, is a small, faint constellation lying near the south celestial pole, immediately south of Triangulum Australe (the Southern Triangle). See below for details of its brightest stars.
IC 4499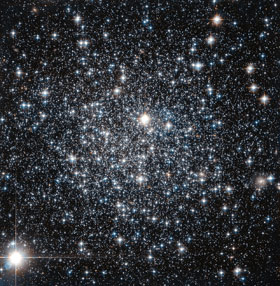 IC 4499. Hubble Space Telescope image.
---
IC 4499 is a globular cluster located in the galactic halo at a distance of about 55,000 light-years. It is a moderately lightweight cluster consisting of a what appears to be a single generation of stars.
| | | | | | | |
| --- | --- | --- | --- | --- | --- | --- |
| star | vis mag | abs mag | spec type | distance (ly) | RA (h m s) | Dec (° ' ") |
| Alpha | 3.83 | -1.68 | K5III | 411 | 14 47 52 | -79 02 41 |
| Gamma | 3.86 | 0.41 | K0IV | 160 | 16 33 27 | -78 53 49 |