Cassiopeia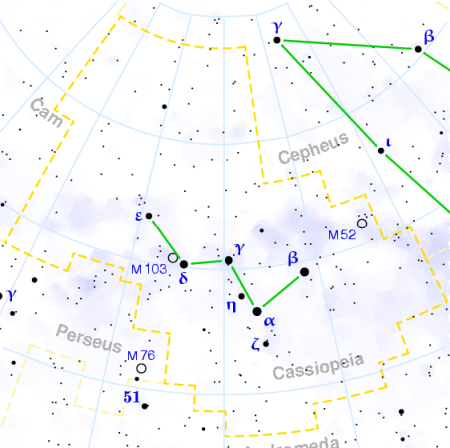 Cassiopeia. © 2003 Tors ten Bronger.
Cassiopeia (abbreviation: Cas), the Queen, mother of Andromeda, is a large northern constellation with a distinctive "W" shape marked by five stars of the third magnitude, and with the Milky Way as a backdrop. It lies near Cepheus and not far from the north celestial pole.
A binocular sweep of the region is rewarding (especially around Delta Cas) and small instruments reveal an interesting assortment of nebulae and open clusters. See below for details of the constellation's brightest stars and interesting deep sky objects.
Heart Nebula
The Heart Nebula (IC 1805) is an emission nebula located in the Perseus Arm of our galaxy in Cassiopeia. It lies about 7,500 light-years away. The brightest part of the nebula – the bright region near the center – is classified separately as NGC 896, because it was the first part to be discovered. An open cluster in the central region, called Melotte 15, contains some stars up to 50 times as massive as the Sun.
RA 02h 32m 35.57s, Dec +61° 29' 2.3"; apparent magnitude: 18.3; apparent dimensions: 60 × 60 arcminutes.
| | | | | | | |
| --- | --- | --- | --- | --- | --- | --- |
| star | vis mag | abs mag | spec type | distance (ly) | RA (h m s) | Dec (° ' ") |
| Alpha (Shedar) | 2.24 | -1.99 | K0IIa | 229 | 00 40 30 | +56 32 15 |
| Gamma Cassopeiae | 2.15v | -4.22 | B0IVe | 613 | 00 56 43 | +60 43 00 |
| Beta (Caph) | 2.28 | 1.16 | F2III-IV | 54 | 00 09 11 | +59 08 59 |
| Delta (Ruchbach) | 2.66 | 0.24 | A5III-IVv | 99 | 01 25 49 | +60 14 07 |
| Epsilon (Segin) | 3.35 | -2.31 | B3III | 442 | 01 54 24 | +63 40 13 |
| Eta (Achird) | 3.46 | -4.73 | G0V+dM0 | 1,410 | 00 49 06 | +57 48 58 |
| Zeta | 3.69 | -2.63 | B2IV | 597 | 00 36 58 | +53 53 49 |
| | | |
| --- | --- | --- |
| name | type of object | notes |
| Bubble Nebula | planetary nebula | NGC 7635. See separate entry |
| Cassiopeia A | supernova remnant | See separate entry |
| IC 59 | diffuse nebula | Nebulosity associated with Gamma Cas, consisting of two fans pointing northwest. Magnitude 9.9; diameter 10'; RA 0h 57.5m, Dec.+61° 09' |
| NGC 281 | diffuse nebula | One degree west of Shedar. Magnitude 7; diameter 35'; RA 0h 52.8m, Dec +56° 37' |
| M52 (NGC 7654) | open cluster | Kidney-shaped, containing over 100 stars, with a prominent magnitude 8 star at one edge. A good object for binoculars. Magnitude 6.9; diameter 13'; RA. 23h 24.2m, Dec +61° 35' |
| M103 (NGC 581) | open cluster | A fan-shaped cluster with at least 40 stars. Magnitude 7.4, diameter 6'; RA 01h 33.2m, Dec +60° 42' |
| NGC 457 | open cluster | One of the brightest open clusters in the sky and an attractive object for small telescopes. Its stars appear to be arranged in chains. Magnitude 6.4; diameter 13'; RA 01h 19.1m, Dec +58° 20' |
| Cassiopeia Dwarf | galaxy | See separate entry |