Carina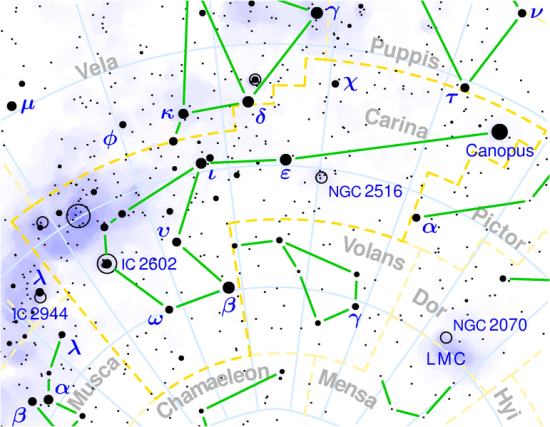 Fig 1. Carina. © 2003 Torsten Bronger.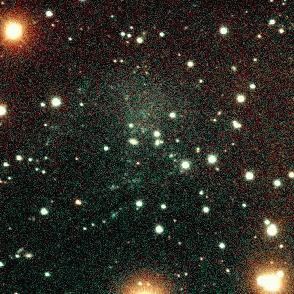 Carina (abbreviation: Car), the Keel (part of Jason's ship, the Argo), is a major southern
constellation
that is home to the second brightest star in the sky,
Canopus
. It lies to the south of
Vela
and the southeast of
Centaurus
. The Milky Way passing through Carina and Vela makes for a field rich in
open clusters
. See the tables below for details of the constellation's brightest stars and interesting deep sky objects.
Carina Dwarf
The Carina Dwarf (Fig 2) is a dwarf galaxy that orbits our own Milky Way Galaxy; it was discovered in 1977 and lies 330,000 light-years from the galactic center. It appears to have formed several billion years after the other satellite galaxies of the Milky Way, its oldest stars dating back no more than about 7 billion years.
Carina OB1 and OB2
Carina OB1 and OB2 are two rich OB associations that lie about 10,000 light-years from the Sun, near Eta Carinae. They contain some exceptional objects, including Star 12 in Carina OB2, which, along with Eta Carinae itself, one of the most massive stars known, and the Wolf-Rayet star HD 93162 in Carina OB1, which has one of the largest known stellar X-ray luminosities.
Southern Pleiades
The Southern Pleiades (IC 2602) is an open cluster of more than 50 stars in Carina, centered on the blue-white star Theta Carinae and forming a triangle in the sky with Beta and Iota Car. At a distance of less than 500 light-years, the Southern Pleiades is relatively nearby compared with many star clusters, and can be seen with the naked eye.
| | |
| --- | --- |
| magnitude | 2 |
| diameter | 50' |
| position | RA 10h 43.2m, Dec -64° 24' |
Toby Jug Nebula
The Toby Jug Nebula (IC 2220) is a reflection nebula in Carina with a bipolar structure that gives it the shape of an old English drinking vessel. It surrounds and is illuminated by the red giant HD 65670, which is also an irregular variable (ranging between sixth and seventh magnitude) known by the variable star name V341 Carinae. The dust and gas in the Toby Jug Nebula have come from mass lost by this star while in its giant stage.
Brightest stars in Carina and other objects of interest
| | | | | | | |
| --- | --- | --- | --- | --- | --- | --- |
| star | vis mag | abs mag | spec type | distance (ly) | RA (h m s) | Dec (° ' ") |
| Alpha (Canopus) | -0.62 | -5.53 | F0Ib | 313 | 06 23 57 | -52 41 44 |
| Beta (Miaplacidus) | 1.67 | -1.00 | A2III | 111 | 09 13 12 | -69 43 02 |
| Epsilon (Avior) | 1.86 | -4.58 | K3III+B2V | 632 | 08 22 31 | -59 30 34 |
| Iota (Tureis, Aspidiske) | 2.21 | -4.43 | A8Ib | 693 | 09 17 05 | -59 16 31 |
| Theta | 2.74 | -2.91 | B0V | 439 | 10 42 57 | -64 23 39 |
| Upsilon | 2.92 | -5.57 | A7Ib+B7III | 1,620 | 09 47 06 | -65 04 18 |
| Omega | 3.29 | -1.99 | B8III | 370 | 10 13 44 | -70 02 16 |
| q | 3.38 | -3.38 | K3IIa | 736 | 10 17 05 | -61 19 56 |
| a | 3.43 | -2.11 | B2IVe | 419 | 09 10 58 | -58 58 01 |
| Chi | 3.46 | -1.91 | B3IVp | 387 | 07 56 47 | -52 58 56 |
| x | 3.93 | -7.37 | G0Ia | 5,930 | 11 08 35 | -58 58 30 |
| | | |
| --- | --- | --- |
| name | type of object | notes |
| NGC 2867 | planetary nebula | An object just within binocular range, lying between Iota and Chi Car. Magnitude 9.7; diameter 11"; RA 09h 21.4m, Dec -58° 19' |
| Eta Carinae Nebula | diffuse nebula | NGC 3372. See separate article |
| NGC 2516 | open cluster | A large cluster best seen with binoculars. It contains about 100 stars, including a fifth magnitude red giant. Magnitude 3.8; diameter 30'; RA 07h 58.3m, Dec -60° 52' |
| NGC 3532 | open cluster | About 150 stars of sixth magnitude and fainter. Small telescopes show it well and reveal an elliptical shape. A magnitude 4 orange star at one edge is not a true member but is much more distant. Magnitude 3.0; diameter 55'; distance 1,300 light-years; RA 11h 06.4m, Dec -58° 40' |
| NGC 2808 | globular cluster | A faint naked-eye object. Magnitude 6.3; diameter 14'; RA 09h 12.0m, Dec -64° 52' |