Dorado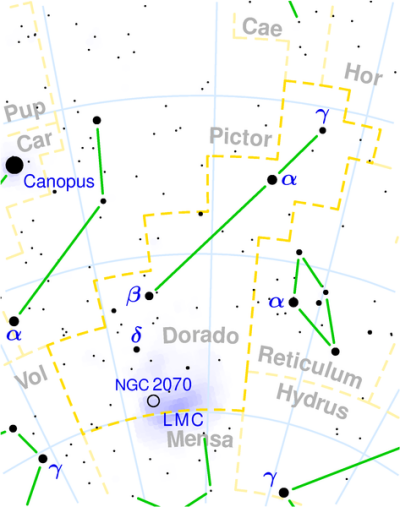 Dorado. © 2003 Torsten Bronger.
Dorado (abbreviation: Dor), the Goldfish or Swordfish, is a southern constellation that is distinguished only by containing most of the Large Magellanic Cloud and having, in Beta Doradus, one of the brightest Cepheid variables (magnitude range 3.5 to 4.1, period 9.83 days). See below for details of the constellation's brightest stars.
The Tarantula Nebula, a large HII region in the Large Magellanic Cloud.
---
| | | | | | | |
| --- | --- | --- | --- | --- | --- | --- |
| star | vis mag | abs mag | spec type | distance (ly) | RA (h m s) | Dec (° ' ") |
| Alpha | 3.30 | -0.36 | A0IIISi | 176 | 04 34 00 | -55 02 42 |
| Beta | 3.5 max | -3.76 | F6Ia | 1,040 | 05 33 38 | -62 29 24 |