Serpens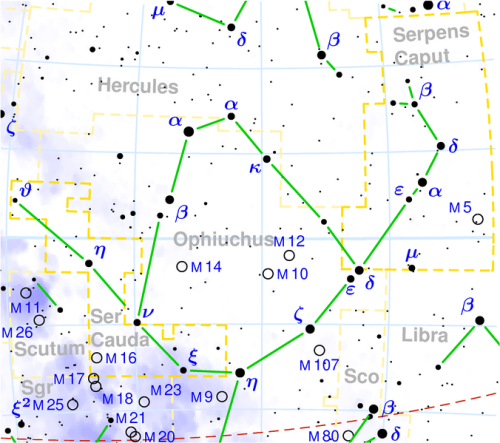 Serpens. © 2003 Torsten Bronger.
Serpens (abbreviation Ser), the Serpent, wrapped around Ophiuchus, the Serpent Bearer, is a faint constellation of the northern hemisphere. It is unique in being the only constellation split into two parts, neither of which touches the other. Entwined around and separated by Ophiuchus, Serpens Caput (the Serpent's Head) is the western portion and Serpens Cauda (the Tail) the eastern portion. The Greek letter names of the constellation's main stars are distributed between the two portions: Alpha through Epsilon in Serpens Caput, Zeta and onward in Serpens Cauda.
Serpens contains the diffuse nebula M16 (NGC 6611) and a sixth magnitude open cluster embedded in the Eagle Nebula (diameter 35' × 28'; RA 18h 18.8m, Dec -13° 47'). Among its other interesting deep sky objects are the globular clusters known as M5 (NGC 5904) (magnitude 5.8; diameter 17.4'; RA 15h 18.6m, Dec +02° 05') and the Serpens Dwarf. See below for details of the constellation's brightest stars.
Serpens Dwarf
Serpens Dwarf (Palomar 4, UGC 9792) is not, as its name might suggest, a dwarf galaxy, but the second most remote globular cluster of our own Milky Way Galaxy. It lies in the remote halo in the direction of Ursa Major (RA 11h 29m 16.8s, Dec +28° 58' 25").
| | | | | | | |
| --- | --- | --- | --- | --- | --- | --- |
| star | vis mag | abs mag | spec type | distance (ly) | RA (h m s) | Dec (° ' ") |
| Alpha (Unukalhai) | 2.63 | 0.87 | K2IIIbCNFe | 73 | 15 44 16 | +06 25 32 |
| Eta (Alava) | 3.23 | 1.84 | K0III | 62 | 18 21 18 | -02 53 56 |
| Theta (Alya) | 3.4 | | | 132 | 18 56 14 | +04 12 10 |
| Theta1 | 4.62 | 1.58 | A5V | | | |
| Theta2 | 4.98 | 1.94 | A5Vn | | | |
| Mu | 3.54 | 0.14 | A0V | 156 | 15 49 37 | -03 25 49 |
| Xi | 3.54 | 0.99 | F0III | 105 | 17 37 35 | -15 23 55 |
| Beta (Chow) | 3.65 | 0.29 | A3V | 153 | 15 46 11 | +15 25 18 |
| Epsilon | 3.71 | 2.04 | A2Vm | 70 | 15 50 49 | +04 28 40 |
| Delta (Tsin) | 3.80 | -0.25 | F0IV | 210 | 15 34 48 | +10 32 21 |
| Gamma | 3.85 | 3.62 | F6V | 36 | 15 56 27 | +15 39 42 |