Ophiuchus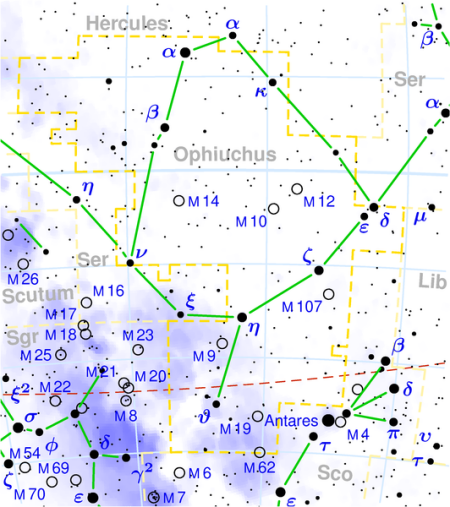 Ophiuchus. © 2003 Torsten Bronger..
Ophiuchus (abbreviation: Oph), the Serpent-Bearer, the mythical healer Aesculapius (his snaked-entwined staff, the caduceus, is the physician's symbol), is a large constellation, in the shape of a huge rough pentagon, mostly of the southern hemisphere, south of Hercules and west of Serpens (Caput). It is replete with bright globular clusters. See below for details of the constellation's brightest stars and interesting deep sky objects.
Snake Nebula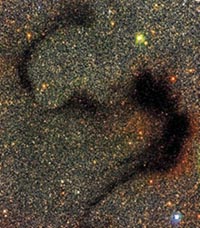 Snake Nebula Canada-France-Hawaii Telescope.
---
The Snake Nebula (Barnard 72) , also known as Barnard's Dark S Nebula, is a distinctively shaped dark nebula in the constellation Ophiuchus, 1.5° north-northeast of Theta Ophiuchi (RA 17h 23m, Dec –23° 38'); it was first catalogued by Edward Barnard. To its right is B68, an extremely dense dark nebula, and below it are B69, B70, and B74.
Kepler's Star
Kepler's Supernova Remnant. Image: Hubble Space Telescope.
---
Kepler's Star (SN Oph 1604) was a Type Ia supernova whose light reached Earth in 1604. The resulting "new" star, which reached a visual magnitude of about –2.2 in late October, was described by Johannes Kepler in his De Stella Nova (1606). The visible supernova remnant consists of a few faint filaments and knots in the galactic halo at a distance of 30,000 to 40,000 light-years, and 4,000 to 5,000 light-years above the galactic plane. Also known as Kepler's Supernova.
| | | | | | | |
| --- | --- | --- | --- | --- | --- | --- |
| star | vis mag | abs mag | spec type | distance (ly) | RA (h m s) | Dec (° ' ") |
| Alpha (Rasalhague) | 2.08 | 1.30 | A5III | 47 | 17 34 56 | +12 33 36 |
| Eta (Sabik) | 2.43 | 0.37 | A2V | 84 | 17 10 23 | -15 43 30 |
| Zeta (Han) | 2.54 | -3.20 | O9.5Vn | 458 | 16 37 09 | -10 34 02 |
| Delta (Yed Prior) | 2.73 | -0.86 | M0.5III | 170 | 16 14 21 | -03 41 39 |
| Beta (Cebelrai) | 2.76 | 0.76 | K2III | 82 | 17 43 28 | +04 34 02 |
| Kappa | 3.19 | 1.08 | K2III | 86 | 16 57 40 | +09 22 30 |
| Epsilon (Yed Posterior) | 3.23 | 0.64 | G9.5IIIbCN | 108 | 16 18 19 | -04 41 33 |
| Theta | 3.27 | -2.92 | B2IV | 563 | 17 22 00 | -24 59 58 |
| Nu | 3.32 | -0.04 | K0IIIaCN | 153 | 17 59 01 | -09 46 25 |
| 72 | 3.71 | 1.68 | A4IVs | 83 | 18 07 21 | +09 33 50 |
| Gamma | 3.75 | 1.43 | A0V | 95 | 17 47 53 | +02 42 26 |
| Lambda (Marfik) | 3.82 | 0.28 | A0V+A4V | 166 | 16 30 55 | +01 59 02 |
| 67 | 3.93 | -4.26 | B5Ib | 1,420 | 18 00 39 | +02 55 53 |
Other objects of interest
name
type of object
notes
Barnard's Star
star
See main entry
Rho Oph
star
A multiple star, N of Antares. Small telescopes reveal two B stars of magnitude 5.02 and 5.92, each with an eighth magnitude companion. These four stars form a V-shaped group. Rho Oph itself is embedded in a nebulosity, IC 4604
NGC 6572
planetary nebula
A bright oval disk that makes a good target for small telescopes at high
magnification. Magnitude 9.0; diameter 11'; RA 18h 12.1m, Dec +06° 51.4'
IC 4665
open cluster
In the same field as Beta Oph, binoculars show about 20 stars of seventh magnitude and fainter stars scattered over an area of about 1°. Magnitude 4.2; diameter 41'; RA 17h 46.3m, Dec +05° 43'
NGC 6633
open cluster
More than 60 members. Magnitude 4.6; diameter 27'; RA 18h 27.7m, Dec +06° 34'
M9 (NGC 6333)
globular cluster
Magnitude 7.9; diameter 9.3'; distance 5,500 light-years; RA 17h 19.2m, Dec -18° 31'
M10 (NGC 6254)
globular cluster
Together with M12, the most prominent of the globulars in Ophiuchus. Both are visible to the naked eye. Binoculars or a small telescope show them as misty patches. Magnitude 6.6; diameter 15.1'; RA 16h 57.1m, Dec -04° 06'
M12 (NGC 6218)
globular cluster
Slightly larger but fainter than M10. Magnitude 6.6; diameter 14.5'; RA 16h 47.2m, Dec -01° 57'
M14 (NGC 6402)
globular cluster
A less condensed center with a slightly elliptical shape. Magnitude 7.6; diameter 11.7'; RA 17h 37.6m Dec -03° 15'
M19 (NGC 6273)
globular cluster
The most oblate known globular cluster. Magnitude 7.1; distance: 27,000 light-years; RA 17h 02.6m, Dec -26° 16'
M62 (NGC 6266)
globular cluster
The most irregularly-shaped known globular cluster. Magnitude 6.6; diameter 14.1; RA 17h 01.2m, Dec -30° 07'
M107 (NGC 6171)
globular cluster
Smaller and fainter than M 10 or M12 and, unusually for globulars, contains dark regions. Magnitude 8.1; diameter 10.0'; RA 16h 32.5m, Dec +03° 13'