Eridanus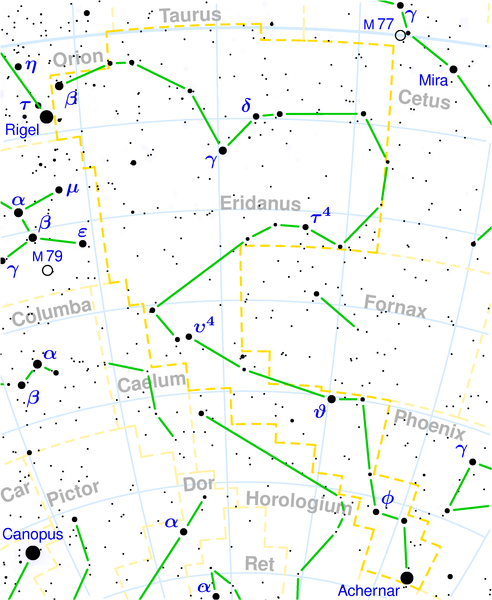 Eridanus. © 2003 Torsten Bronger.
Eridanus (abbreviation: Eri), the River, is a very large southern constellation that starts near the southwest corner of Orion and meanders down to the region of the south pole. Although one of Ptolemy's original constellations, its southernmost extension, including its brightest star, was added later.
The two Omicrons, Omicron1 (Beid) and Omicron2 (Keid), are not physically connected. Beid is giant F star 125 light-years distant, while Keid is a multiple system, a mere 16 light-years away. Keid contains an easy, wide binary, the secondary of which is itself a binary made up of a red dwarf and the brightest (in terms of apparent magnitude) white dwarf in the sky. See below for details of the constellation's brightest stars.
| | | | | | | |
| --- | --- | --- | --- | --- | --- | --- |
| star | vis mag | abs mag | spec type | distance (ly) | RA (h m s) | Dec (° ' ") |
| Alpha (Achernar) | 0.45 | -2.77 | B3Vpe | 144 | 01 37 43 | -57 14 12 |
| Beta (Cursa) | 2.78 | 0.60 | A3III | 89 | 05 07 51 | -05 05 11 |
| Theta (Acamar) | 2.88 | -0.59 | A4III+A1V | 161 | 02 58 16 | -40 18 17 |
| Gamma (Zaurak) | 2.97 | -1.19 | M0.5IIICa-ICr | 221 | 03 58 02 | -13 30 31 |
| Delta (Rana) | 3.52 | 3.74 | K0IV | 29 | 03 43 15 | -09 45 48 |
| Upsilon4 | 3.55 | -0.15 | B9V | 178 | 04 17 54 | -33 47 54 |
| Phi | 3.56 | 0.17 | B8IV | 155 | 02 16 31 | -51 30 44 |
| Tau4 (Angetenar) | 3.70 | -0.79 | M3.5IIIaCa | 258 | 03 19 31 | -21 45 28 |
| Chi | 3.69 | 2.47 | G8IIIbCN | 57 | 01 55 58 | -51 36 32 |
| Epsilon Eridani | 3.72 | 6.18 | K2V | 10.5 | 03 32 56 | -09 27 30 |
| Upsilon2 (Theemini) | 3.81 | -0.22 | G8III | 209 | 04 35 33 | -30 33 45 |
| 53 (Sceptrum) | 3.86 | 1.23 | K1IIIb | 109 | 04 38 11 | -14 18 15 |
| Eta (Azha) | 3.89 | 0.83 | K1IIIbBa0.2 | 133 | 02 56 26 | -08 53 54 |