Aquarius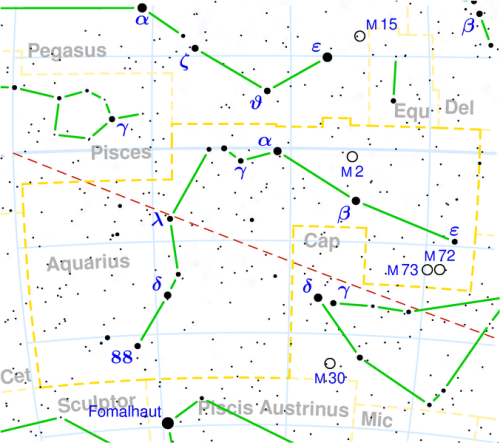 Aquarius. © 2003 Torsten Bronger..
Aquarius (abbreviation: Aqr), the Water-bearer, is a large but quite faint southern constellation and the twelfth sign of the zodiac. It is surrounded by Pegasus, Equuleus, and Delphinus to the north, Aquila to the west, Capricornus so the southwest, Pisces Austrinus and Sculptor to the south, and Cetus to the east.
The stars Sadachbia (Gamma), Eta Aqr, Zeta Aqr, and Pi Aqr form a small Y-shaped asterism, called the Water Jar or Urn, thought to mark the Water-bearer's cup.
See below for details of the constellation's brightest stars and interesting deep sky objects.
R Aquarii
R Aquarii. Hubble Space Telescope image.
---
R Aquarii is a symbiotic star thought to consist of a white dwarf and a Mira variable in a binary system. At a distance of about 710 light-years it is one of the nearest symbiotic stars to the Sun. It has been suggested that the nebula around R Aquarii is the remains of nova-like outburst, which may have been observed by Japanese astronomers in 930 AD.
| | | | | | | |
| --- | --- | --- | --- | --- | --- | --- |
| Star | Visual mag. | Abs. mag. | Spectral type | Distance (lt-yr) | R.A. (h m s) | Dec. (° ' ") |
| Beta (Sadalsuud) | 2.90 | -3.47 | G0Ib | 612 | 21 31 33 | -05 34 16 |
| Alpha (Sadalmelik) | 2.95 | -3.88 | G2Ib | 759 | 22 05 47 | -00 19 11 |
| Delta (Skat) | 3.27 | -0.18 | A3V | 159 | 22 54 39 | -15 49 15 |
| Zeta | 3.65 | 1.14 | F6IV+F3V | 103 | 22 28 50 | -00 01 12 |
| c2 | 3.68 | -0.60 | K1III | 234 | 23 09 27 | -21 10 21 |
| Lambda | 3.73 | -1.67 | M2.5IIIaFe | 392 | 22 52 37 | -07 34 47 |
| Epsilon (Albali) | 3.78 | -0.46 | A1V | 230 | 20 47 40 | -09 29 45 |
| Gamma (Sadachbia) | 3.86 | 0.43 | A0V | 158 | 22 21 39 | -01 23 14 |
| b1 | 3.96 | 0.48 | K0III | 162 | 23 22 58 | -20 06 02 |
| | | |
| --- | --- | --- |
| Name | Type of object | Notes |
| V1344 Aqr | star | An X-ray jet variable |
| Helix Nebula | planetary nebula | NGC 7293. See separate entry |
| Saturn Nebula | planetary nebula | NGC 7009. See separate |
| M2 (NGC 7089) | globular cluster | On of the most impressive of its type; it appears in binoculars as a misty patch with a central concentration, and with a 15-cm telescope is partially resolved into stars. Magnitude 6.5, diameter 12.9', distance 37,500 light-years; R.A. 21h 31m, Dec. -01° 03' |
| M72 (NGC 6981) | globular cluster | A faint object in small telescopes. Magnitude 9.8, diameter 2', distance 55,400 light-years; R.A. 20h 52m, Dec. -12° 39' |
| Aquarius Dwarf | galaxy | See separate entry |
| Atoms for Peace Galaxy | galaxy | NGC 7252. See separate entry |