Cepheus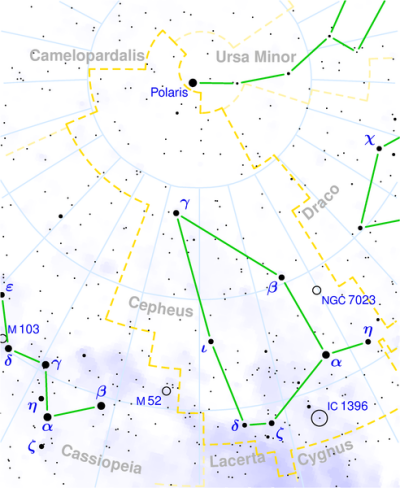 Cepheus. © 2003 Torsten Bronger.
Cepheus (abbreviation: Cep), the King, father of Andromeda, is a northern constellation, mostly circumpolar from as far south as latitude 30° N, with a noticeable quadrilateral shape made from Alpha, Beta, Iota, and Zeta.
Cepheus contains several variable stars that are prototypes of their classes, the most important of which is Delta Cephei. VV Cep is a huge eclipsing binary of the Zeta Aurigae type, consisting of a red supergiant and a smaller blue companion in a 20.3-year orbit (magnitude range 4.7 to 5.4; RA 21h 56.7m, Dec +63° 38').
There are also two interesting open clusters. NGC 6939 is a fine cluster of about 80 stars in a rich field that includes NGC 6946, a face-on spiral galaxy. It lies 2.5° south of Theta Cep and 2° southwest of Eta Cep (magnitude 7.8, diameter 7.8'; RA 20h 31.4m, Dec +60° 38'). NGC 188 contains about 120 stars and is possibly the oldest known open cluster, with an age of about 5 billion years (magnitude 8.1; diameter 14'; distance 5,000 light-years; RA 00h 44.5m; Dec +85° 20'). See below for details of the constellation's brightest stars.
Gyulbudaghian's Nebula
Gyulbudaghian's Nebula (HH215) is a Herbig-Haro object – a variable bipolar nebula generated by shock waves from a contracting protostar – in Cepheus. At the apex of its faint, fan-like shape lies the variable star PV Cephei, which provides the energy that illuminates the nebula. HH 215 resembles the classic variable bipolar nebula NGC 2261 ( Hubble's Variable Nebula) as it varies in shape and brightness and its spectrum is in a state of continual change.
The name "Gyulbudaghian's Nebula" (pronounced gyool-boo-DAH-ghee-an) originates from a paper published in Soviet Astronomy Letters (1977).
| | | | | | | |
| --- | --- | --- | --- | --- | --- | --- |
| star | vis mag | abs mag | spec type | distance (ly) | RA (h m s) | Dec (° ' ") |
| Alpha (Alderamin) | 2.45 | 1.57 | A7IV | 49 | 21 18 35 | +62 35 08 |
| Gamma (Alrai) | 3.21 | 2.51 | K1IV | 45 | 23 39 21 | +77 37 57 |
| Beta (Alfirk) | 3.23v | -3.08 | B2III | 595 | 21 28 39 | +70 33 39 |
| Zeta | 3.39 | -3.35 | K1.5Ib | 726 | 22 10 51 | +58 12 05 |
| Eta | 3.41 | 2.62 | K0IV | 47 | 20 45 17 | +61 50 20 |
| Iota | 3.50 | 0.76 | K0III | 115 | 22 49 41 | +66 12 02 |
| Mu (Garnet Star) | 3.5 max | -4.07 | F5Ib-G2Ib | 950 | 22 29 10 | +58 24 55 |