Auriga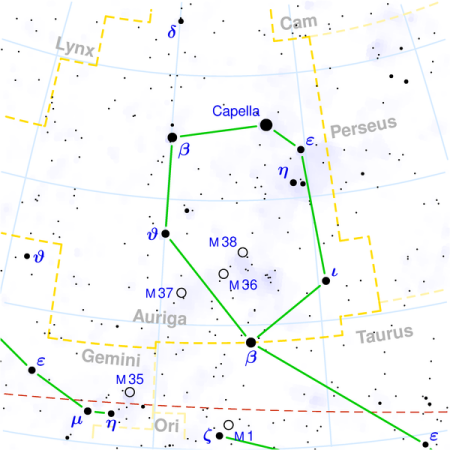 Auriga. © 2003 Torsten Bronger.
Auriga (abbreviation: Aur), the Charioteer (possibly Erechthonius, son of Vulcan), is among the brightest of northern constellations. It lies midway between Perseus and Ursa Major in a region crossed by the Milky Way, and is the site of the galactic anticenter (the point in the sky diametrically opposite the center of the Galaxy).
Gamma Aur, or El Nath, is shared with Taurus and is universally referred nowadays as Beta Tau. Epsilon Aurigae and Zeta Aurigae are remarkable eclipsing binaries. Together with Eta Aur, they make up the so-called Kids, an asterism which lies just to the south and slightly ahead of Capella (whose name means the "She-Goat"). The most northerly of the trio, Epsilon, is a late addition; in antiquity Zeta and Eta were known respectively as "the western kid" and "the eastern kid." See below for details of the constellation's brightest stars and interesting deep sky objects.
| | | | | | | |
| --- | --- | --- | --- | --- | --- | --- |
| star | vis mag | abs mag | spec type | distance (ly) | RA (h m s) | Dec (° ' ") |
| Alpha (Capella) | 0.08 | -0.48 | G5IIIe+G0III | 42 | 05 16 41 | +45 59 53 |
| Beta (Menkalinan) | 1.90 | -0.11 | A2IV | 82 | 05 59 32 | +44 56 51 |
| Theta | 2.65 | -0.98 | A0IIIpSi+G2V | 173 | 05 59 43 | +37 12 45 |
| Iota (Hassaleh) | 2.69 | -3.29 | K3II | 512 | 04 57 00 | +33 09 58 |
| Epsilon Aurigae | 3.03v | -5.95 | F0Iae | 2,040 | 05 01 58 | +43 49 24 |
| Eta | 3.18 | -0.96 | B3V | 219 | 05 06 31 | +41 14 04 |
| Delta | 3.72 | 0.55 | K0III | 141 | 05 59 32 | +54 17 05 |
| Zeta Aurigae | 3.69v | -3.23 | K4II+B8V | 789 | 05 02 29 | +41 04 33 |
| | | |
| --- | --- | --- |
| name | type of object | notes |
| AE Aur | star | See also runaway star |
| RT Aur | star | A Cepheid variable; magnitude range 5.4 to 6.6, period 3.7 days |
| T Aur | star | Nova 1882; reached magnitude 4.1, now at 15.8. Discovered by the Scottish amateur astronomer, T. D. Anderson |
| Flaming Star Nebula | diffuse nebula | IC 405. See separate entry |
| IC 410 | diffuse nebula | Resembles the Rosette Nebula, with a small embedded open cluster, NGC 1893, and a dark patch of obscuring dust at its center. RA 05h 22m, Dec +33° 27' |
| M36 (NGC 1960) | open cluster | About 60 stars. Magnitude 6.3; diameter 12'; RA 05h 32m, Dec +34° 7' |
| M37 (NGC 2099) | open cluster | About 500 stars, some 150 of which shine at magnitude 12.5 or brighter. Magnitude 6.2; diameter 20'; RA 05h 49m, Dec.+32° 32' |
| M38 (NGC 1912) | open cluster | A cruciform-shaped cluster, located near both the Flaming Star and IC 410. Magnitude 7.4; diameter 20'; RA 05h 25m, Dec +35° 48' |