Draco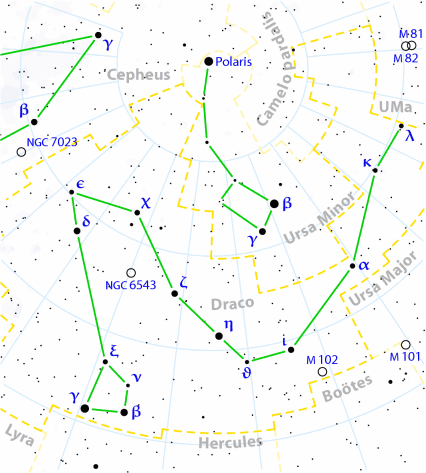 Draco. © 2003 Torsten Bronger.
Draco (abbreviation: Dra), the Dragon, is a large constellation that coils around the north celestial pole, appearing to encircle Ursa Minor, and is one of the few star patterns to somewhat resemble the object after which it is named. The four stars forming the dragons head – Beta, Gamma, Xi, and Nu Dra – make up a conspicuous asterism known as the Lozenge.
Among Draco's interesting deep-sky objects are the
Cat's Eye Nebula
(NGC 6543), the Draco Dwarf, and 3C 351, a quasar lying at a distance of about 7 billion light-years (magnitude 15.3; RA 17h, Dec +60°). See below for details of the constellation's brightest stars.
Draco Dwarf
The Draco Dwarf is a dwarf elliptical galaxy that orbits the Milky Way at a distance of about 250,000 light-years from the galactic center. It is the least luminous galaxy known, with an absolute magnitude of -8.6 and a diameter of only about 3,500 light-years. It was discovered in 1954 at the same time as another Milky Way satellite, the Ursa Minor Dwarf.
| | | | | | | |
| --- | --- | --- | --- | --- | --- | --- |
| star | vis mag | abs mag | spec type | distance (ly) | RA (h m s) | Dec (° ' ") |
| Gamma (Eltanin) | 2.24 | -1.04 | K5III | 148 | 17 56 36 | +51 29 20 |
| Eta (Aldhibain) | 2.73 | -6.27 | G8IIIab | 2,050 | 16 23 59 | +61 30 50 |
| Beta (Rastaban) | 2.79 | -2.44 | G2Ib-IIa | 361 | 17 30 26 | +52 18 05 |
| Delta (Taïs) | 3.07 | 0.63 | G9III | 100 | 19 12 33 | +67 39 41 |
| Zeta (Aldhibah) | 3.17 | -1.90 | B6III | 320 | 17 08 47 | +65 42 53 |
| Iota (Edasich) | 3.29 | -1.92 | B6III | 339 | 15 24 56 | +58 57 58 |
| Chi | 3.55 | 4.01 | F7V | 26 | 18 21 03 | +72 43 58 |
| Alpha (Thuban) | 3.67 | -1.21 | A0III | 308 | 14 04 23 | +64 22 33 |
| Xi (Juza) | 3.73 | 1.06 | K2III | 111 | 17 53 32 | +56 52 21 |
| Epsilon (Tyl) | 3.84 | 0.59 | G8IIIbCN | 146 | 19 48 10 | +70 16 04 |
| Lambda (Giausar) | 3.82 | -1.24 | M0IIICa | 334 | 11 31 24 | +69 19 52 |
| Kappa | 3.85 | -2.07 | B6IIIpe | 498 | 12 33 29 | +69 47 17 |